Motorized Ball Valve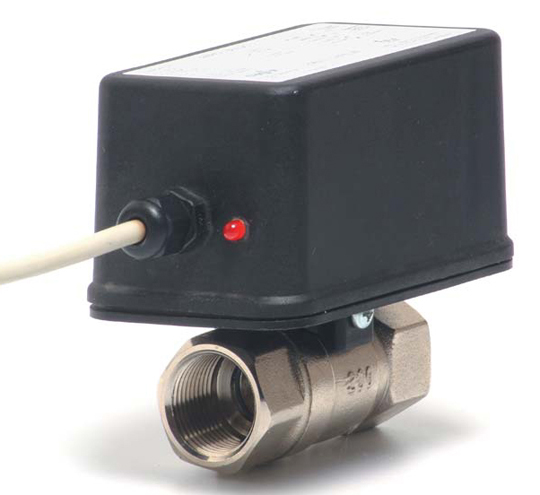 2-way quarter turn motorized ball valve actuator, with a rapid (5 Secs) response
High quality motorized ball valve and electric actuator, for control of flow regulation of liquids and different gases under pressure, suitable for industrial, agricultural and construction systems.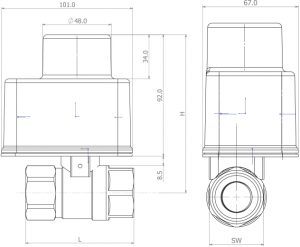 Characteristics:
Speedy five seconds open/close operation
Power supply: 12V/24V AC/DC – preset in factory
Waterproof
No emergency mechanism. In case of power failure the valve stays in its last position.
Working temperatures:
Working temp. 100°C
Short term temp. 140°C
90° revolution between open and closed positions
Optional auxiliary output to indicate fully opened valve position
Single switch operation
Configuration: Please select the desired valve diameter, electric voltage and current type.
Valve sizes: ½", ¾", 1″
Power inlet options: 12V DC, 12V AC, 24V DC, 24V AC
Normally Open (N.O.) / Normally Closed (N.C.)
Optional LED indication for fully open valve position
Applications of the motorized ball valve:
Temperature control in heating/cooling systems
Liquids release in high pressure systems
Flow control in agricultural and industrial water systems
Fuel systems to control burners
Gas flow regulation
Steam systems (low temperature), laundries, kitchens etc…
Speedy open/close operation
Easy installation
Reliable
Heavy duty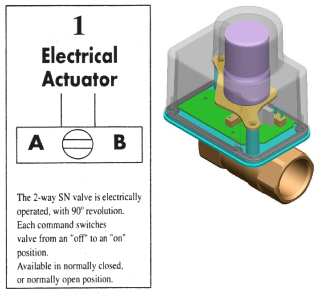 Available actuator types:
| | | | | |
| --- | --- | --- | --- | --- |
| CAT. NO. | Voltage | Current | Position | Indicator |
| 1ENA00012 | 12V | AC | N/C | NO |
| 1ENAO0012 | 12V | AC | N/O | NO |
| 1END00012 | 12V | DC | N/C | NO |
| 1ENDO0012 | 12V | DC | N/O | NO |
| 1ENA00024 | 24V | AC | N/C | NO |
| 1ENAO0024 | 24V | AC | N/O | NO |
| 1END00024 | 24V | DC | N/C | NO |
| 1ENDO0024 | 24V | DC | N/O | NO |
| 1ENA0L024 | 24V | AC | N/C | YES |
| 1END0L024 | 24V | DC | N/C | YES |
| 1ENDOL024 | 24V | DC | N/O | YES |
Available valves types:
| | | | | |
| --- | --- | --- | --- | --- |
| CAT. NO. | Size | H mm | L mm | SW HEX |
| 1N2008013 | 1/2″ F-F | 114.5 | 62.5 | 25 |
| 1N2012013 | 3/4″ F-F | 118.0 | 72.5 | 32 |
| 1N2016013 | 1″ F-F | 121.5 | 84.0 | 38 |
| 1A2008013 | 1/2″ M-F | 114.5 | 57.5 | 25 |
| 1A2012013 | 3/4″ M-F | 118.0 | 70.0 | 32 |
| 1A2016013 | 1″ M-F | 121.5 | 79.5 | 38 |
Gidi Gottlieb: International Sales Manager Mail: Gidig@sagiv.com
Nurit Cohen: International Sales Administrator Tel. +972-8-6565333 Ext. 104
Sagiv General Tel. +972-8-6565333, Fax: +972-8-6565440