Gas Specifications
Yellow Line
A line of products designed for LPG & Natural Gas systems.
The Yellow Line includes a range of Gas ball valves, quick connection valves, Angular valves, T valves and manifolds.
The valves mechanism is based on Sagiv's high quality ball mechanism (see drawing).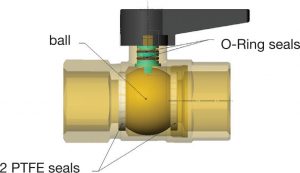 Specifications:
Main body Material – Standard Brass CW617N
Ball Gaskets Material – P.T.F.E
Working Pressure – up to 5 BAR
Options:
Pipe Sizes – ¼' up to 2"
Threads – Male, Female, NPT, BSP
Connection Types – Flare, Compression Join (Olive), Rubber pipe
Plating – Nickel, Nickel-Chrome
Brackets – Can be added to any ball valve of up to ¾" in diameter.
When you order please add "C" to the product name. For example:
SGA – Gas valve Female Male thread
SGAC – Gas valve Female Male thread + Bracket
In addition Sagiv provides custom-made solutions that can meet various customers' specific requirements.
Standards:
The Yellow Line products are manufactured according to the Israeli standard no. 1607 which is identical to the European standard EN-331.
Other international standards are available